Due to COVID-19, the Moravian College Medieval and Early Modern Studies Conference will be suspended in 2020. We look forward to seeing everyone back again in 2021.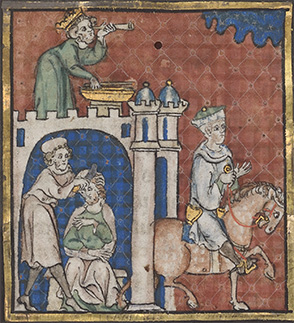 Nectanebus studies the stars. Histoire du bon roy Alixandre, ca. 1300-1320. Berlin, Kupferstichkabinett, Staatliche Museen, MS 78 C 1, fol. 5v.
Hosted by Moravian College
Bethlehem, Pennsylvania
Main St. Campus
Priscilla Payne Hurd Academic Complex
For more information, please contact
Sandy Bardsley (sandybardsley [at] moravian.edu) or
John Black (jrblack [at] moravian.edu)
The conference organizers thank the Provost's Office, English Department, and History Department at Moravian College and the Lehigh Valley Association of Independent Colleges (www.lvaic.org ) for their support. Thanks also to the many others, including the President's Office, Reeves Library, the HUB, Food Services, the Public Relations Office, Media Services, and college staff and volunteers, whose contributions are essential to the success of the undertaking.
Moravian College encourages persons with disabilities to participate in its programs and activities. If you anticipate needing any type of accommodation or have questions about the physical access provided, please contact the event sponsors/organizers, or call 610-861-1390 at least one week prior to the event.